This picture, which I first saw in the
Washington Examiner,
says it all,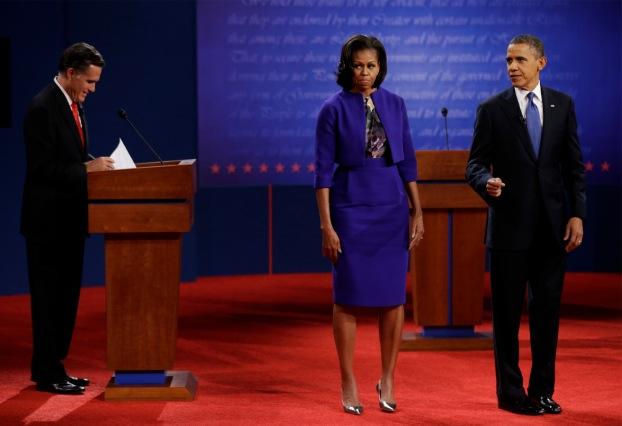 All three people in this post-debate photo clearly know who won the debate.
Why did Romney win?
Obama had to defend the indefensible, his record. His line about not looking at "where we have been" showed his desperation that Romney not talk about the past four years. Romney, however, refused to play along and kept the focus on these four miserable years. He reminded Obama of one little fact, i.e., that Obama has been president for that period, nobody else: all the things Obama was promising for the next four years, he could have done over the past four.
Romney was an encyclopedia. Obama could not bring up a subject on which Romney did not have an impressive array of well-organized facts. Romney presented an action plan to the American people to create jobs, generate revenue, reduce deficits, and seek North American energy independence. He would not let Obama get away with anything. Romney clearly decided--surprise!--that the debate would not be an Obama campaign stop. He was going after Obama's pet phrases about Romney supporting a tax cut for the rich, the nonsense about tax breaks for oil companies, and his support for "green" policies. Romney demolished Obamacare, and properly chastised the President for ramming through this project instead of working on creating jobs. Romney completely skewered the President's big line re "you get a tax break" for sending jobs overseas with a simple and brilliant "I don't know what you're talking about." From Obama's look of resignation right after Romney's rejoinder, it was clear that Obama did not know what he was talking about.
Obama is clearly bored and not interested in the actual job of President and that came through Lima Charlie. What we had on display was a contrast between a disciplined man and a lazy man, between a man who has lived in the real world, and, as I wrote last May 17,
Chauncey Gardiner
,
As with Chance the gardner, who eventually becomes Chauncey Gardiner, we have in Barry Obama a man with no discernible past, no apparent knowledge of the world except what he gets from television and movies, and the most banal, pedestrian, and foolish bromides imaginable. . . . Listen to his typical speech and you will hear the nonsense pour forth; the silly slogans about class warfare seem taken from some Hollywood movie or MSNBC documentary that runs endlessly in his head.
More simply put, we saw Romney prove Clint Eastwood correct: Obama is nothing more than a empty chair.